The Real Longfellow
What is the best way to learn more about and really get to know someone like Henry Wadsworth Longfellow? According to American realist author and literary critic, William Dean Howells (1837-1920), looking at a likeness of Longfellow couldn't really give you an accurate idea of the author's appearance and demeanor: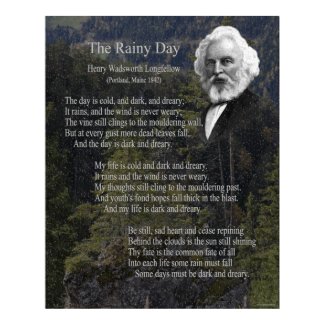 "All the portraits of Longfellow are likenesses more or less bad and good, for there was something as simple in the physiognomy as in the nature of the man. His head, after he allowed his beard to grow and wore his hair long in the manner of elderly men, was leonine, but mildly leonine, as the old painters conceived the lion of St. Mark. Once Sophocles, the ex-monk of Mount Athos, so long a Greek professor at Harvard, came in for supper, after the reading was over, and he was leonine too, but of a fierceness that contrasted finely with Longfellow's mildness. I remember the poet's asking him something about the punishment of impaling, in Turkey, and his answering, with an ironical gleam of his fiery eyes, 'Unhappily, it is obsolete.' I dare say he was not so leonine, either, as he looked."
Mr. Howells was also one of those privileged to hear Mr. Longfellow recite his own works in progress at the Dante Club:
"When Longfellow read verse, it was with a hollow, with a mellow resonant murmur, like the note of some deep-throated horn. His voice was very lulling in quality, and at the Dante Club it used to have early effect with an old scholar who sat in a cavernous armchair at the corner of the fire, and who drowsed audibly in the soft tone and the gentle heat. The poet had a fat terrier who wished always to be present at the meetings of the Club, and he commonly fell asleep at the same moment with that dear old scholar, so that when they began to make themselves heard in concert, one could not tell which it was that most took our thoughts from the text of the Paradiso. When the duet opened, Longfellow would look up with an arch recognition of the fact, and then go gravely on to the end of the canto. At the close he would speak to his friend and lead him out to supper as if he had not seen or heard anything amiss."
More of Mr. Howells' detailed recollections of the times he spent in the company of Henry Wadsworth Longfellow are available to you freely on Google Books and will greatly aid you in expanding your knowledge of 19th century literary figures. Mr. Howells was acquainted with many other literary figures, and was also a good friend of Mark Twain.