Perceiving the Poet as a Prophet
"The Prophet" (by Aleksandr Pushkin) suggests to the reader a supernatural experience by the narrator where he is transformed and sent out into the world by God himself.
It may be reminiscent of the Old Testament to some since six winged seraphs appear to ISAIAH, but what of the snake and the forked tongue? Perhaps he was expressing his distrust of zealousness. Some people may perceive him to be speaking of himself as well.
Perceiving the poet as a prophet is not unheard of in Russia and, in fact, author Fyodor Doestovesky often recited this poem in public, allowing people to think of him as a prophet.
Mrs. Ivan Pavlov heard him read Pushkin's "The Prophet" in 1879 and later described the experience:
"I saw the Prophet Dostoyevsky, his face transformed. His eyes flashed lightning that seared people's hearts, his face glowed with mighty inspiration from on high" (Hingley 184).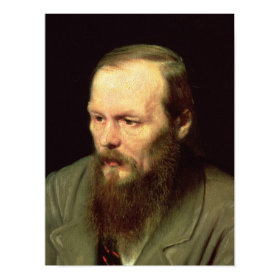 The literary historian Semyon Vengerov, who was present at the same or a similar reading of Pushkin, was likewise impressed:
"Dostoevsky looked like a prophet in the full meaning of the word. . . . From the moment he mounted the podium all his listeners were completely in the hypnotic power of this thin and inconspicuous man. Each person in the auditorium was spellbound by this penetrating, strangely burning gaze that stared far out into an indeterminate remoteness" (Kjetsaa 315).
Another listener, saying his performance could not really be called reading or acting, labeled it "life itself; a sick, epileptic fever fantasy" (Kjetsaa 316).
Grossman reports that Dostoevsky "read with highly original inflections and in inspired tones," and "he attached a great deal of importance to poetic melody and conveyed the musicality and rhythm of the language splendidly" (566).
His wife accompanied him on these occasions, carrying his text, cough drops, a handkerchief, and a scarf for his neck after he completed his performance (Hingley 184).