Les Enfants Pauvres (The Children of the Poor)
by VICTOR HUGO (1802-1885)
Prenez garde à ce petit être;
Il est bien grand, il contient Dieu.
Les enfants sont, avant de naître,
Des lumières dans le ciel bleu.
Dieu nous les offre en sa largesse;
Ils viennent; Dieu nous en fait don;
Dans leur rire il met sa sagesse
Et dans leur baiser son pardon.
Leur douce clarté nous effleure.
Hélas, le bonheur est leur droit.
S'ils ont faim, le paradis pleure.
Et le ciel tremble, s'ils ont froid.
La misère de l'innocence
Accuse l'homme vicieux.
L'homme tient l'ange en sa puissance.
Oh! quel tonnerre au fond des cieux,
Quand Dieu, cherchant ces êtres frêles
Que dans l'ombre où nous sommeillons
Il nous envoie avec des ailes,
Les retrouve avec des haillons!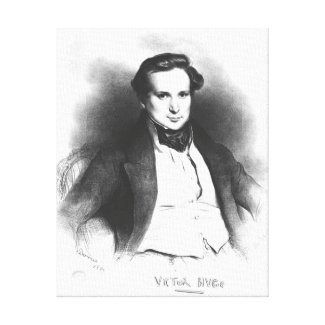 The greatest thing that Victor Hugo ever did, according to Francis Gribble, an English commentator, was not to write "Les Miserables," nor to overwhelm the world with his Olympian fecundity of poetry and rhetoric. It was to fasten upon humanity "the Hugo legend." … For many years the question has been debated whether Victor Hugo was a great man or a great windbag.
"Perhaps," Mr. Gribble suggests,"he was both" … continue
English translation on page 2