Demain, dès l'aube
by VICTOR HUGO (1802-1885)
read by
Paul Mankin: 19th century French poetry
Demain, dès l'aube, à l'heure où blanchit la campagne,
Je partirai. Vois-tu, je sais que tu m'attends.
J'irai par la forêt, j'irai par la montagne.
Je ne puis demeurer loin de toi plus longtemps.
Je marcherai les yeux fixés sur mes pensées,
Sans rien voir au dehors, sans entendre aucun bruit,
Seul, inconnu, le dos courbé, les mains croisées,
Triste et le jour pour moi sera comme la nuit.
Je ne regarderai ni l'or du soir qui tombe,
Ni les voiles au loin descendant vers Honfleur,
Et quand j'arriverai, je mettrai sur ta tombe
Un bouquet de houx vert et de bruyère en fleur.
Tomorrow at Daybreak
Tomorrow at daybreak, when the fields are pale
I will leave. You see, I know that you wait for me.
I will cross the forest, I will cross the hills
I cannot live far from you any longer.
I will walk, my eyes seeing only mind's visions
Seeing nothing else, hearing not a sound
Alone, unknown, back bowed, hands crossed
Sad, and the day for me will be like the night
Looking not at the golden night that falls
Nor the sails from far descending on Honfleur
And when I arrive, I will place upon your grave
A wreath of green holly and heather in bloom.
Translated by Valerie Smith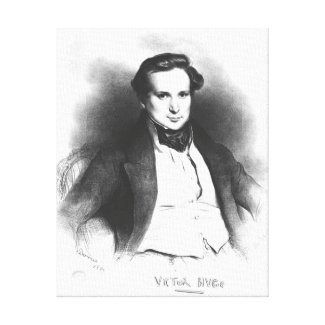 Tomorrow at Daybreak, or, in some translations, Tomorrow at Dawn, reflects Victor Hugo's immense grief over the death of his daughter, Leopoldine, who died at the tender age of 19 with her husband, Charles Vacquerie, in a boating accident on the Seine River. Read Hugo's poem to his other daughter, A ma fille Adèle
Victor Hugo Contemporaries
James Russell Lowell
Robert Browning
Charles Baudelaire
Alfred, Lord Tennyson